Thermal Management Materials (6005 Series)
Thermal Conductive Grease,
Heat Transfer Compound, Paste.
The 6005 Material – a heat sink compound formulated with select polydimethy siloxane fluid in combination with metallic oxide fillers to provide superior thermal conductivity.
This product is designed for use as a heat transfer compound in both the electrical and electronic industries. Characterized by high thermal conductivity, high dielectric constant, and high dissipation factor, the 6005 Heat Transfer Compound is an ideal product for use in power diodes, transistors, semi-conductors, and other applications that require these characteristics. The 6005 material exhibits excellent long-term storage stability without oil separation.
Contact Sales Now To Discuss Your Thermal Material Needs, Call 877-625-7776 x249 Or
Features
*High thermal conductivity *High dielectric constant *High dissipation factor
*Use with heat sinks or metal chassis *Will not dry or harden
Storage
6005 Material has a shelf-life of eighteen (18) months from the date of manufacture, as indicated by the lot number, when stored in the original unopened container at or below 26OC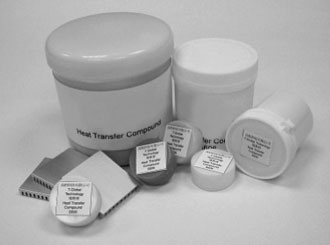 Property
Material 6005

RANGE

UNIT

TEST METHOD
Color
White
—
Visual
Bluk penetration
210-260
—
—
Specific Gravity
2.30 +/-0.2
g/cm3
ASTM D792
Volatile matter
<0.5% after 4h/200o C
oC
—
Bleed
No bleed after 4h/200oC
oC
—
Dielectric Strength
1.0KV @ 0.1mm
KV
ASTM D-149
Volume Resistivity
1×1014
Ohm-cm.
ASTM D-257
Thermal Conductivity
3.6
W/m-k
ASTM D5470