Thermal Management Materials (6002 Series)
This material exhibits excellent softness, high compressibility, and natural adhesiveness. It is excellent for applications where high electrical insulation is needed.
This product has high thermal conductivity to effectively conduct heat away from sensitive components to a heat sink. The 6002 is an economical thermal conductive interface material.
Being electrically insulating, this thermal conductive material can be applied to electrical devices exhibiting high voltages.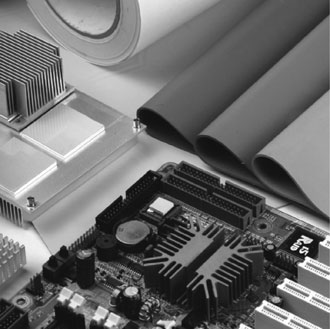 Contact Sales Now To Discuss Your Thermal Material Needs, Call 877-625-7776 x249 Or
Property
Material 6002

RANGE

UNIT

TEST METHOD
Color
Light gray
—
Visual
Thickness
0.13 – 15
mm
ASTM D374
Specific Gravity
2.35 +/-0.2
g/cm3
ASTM D792
Hardness
15 +/-3
Shore A
ASTM D2240
Elongation
300 +/-0.2
%
ASTM D412
Tensile Strength
12 +/-5
Kgf/cm2
ASTM D412
Weight Loss
<1
%
@204oC/24 hr.
Dielectric Breakdown (V)
>7
KV
ASTM D149
Surface Resistance
>1017
Ohm
ASTM D257
Temperature Continuous
-50 to +220
oC
–
Flame Raring
94V-0
UL
UL
Thermal Conductivity
1.6
W/m-k
ASTM D5470
Test Sample Thickness: 2.0mm

Thermal Resistance vs. Pressure (Gray)
The 6002 material provides low thermal impedance; with increasing pressure, thermal impedance becomes lower.
Deflection vs. Pressure (Black)
The 6002 material exhibits high deflection (softness); as pressure increases the deflection percentage increases. This material provides good compliance to mating surfaces.
Sample of the 6002 material